I wanted to tell you about this a few weeks ago, but then the banana plant started to do its thing with the bananas, and I got side-tracked... but something kind of amazing happened here.
I first heard about
straw bale gardening
when Scarlett from
BLF
posted about it. I absolutely fell in love with the idea, it just sounded amazingly non fussy and the photos looked so good. So I started googling and read a fair bit about it. The methods ranged from a little more complicated, adding all sorts of things to the straw, to pretty simple. Of course I decided on the simplest one I could find, and trotted off to the backyard to have a think about where to put my bale.
You know how sometimes when you are looking for something you can't see it because it's right there in your face?
Well that's where my straw bale garden was. It was already there in my yard. Right in my face. Prepared and everything. I'd plonked a bale of straw down months ago with the intention of using it as mulch, but the children got to it and played in it, raking and piling, pulling and throwing the stuff all over the place. I'd been ignoring it because it had been raining for weeks and was a big sodden mess that I couldn't move.
Could it have been any more clear? I didn't have to lift a finger. I had thought about it, and it came to me. In fact, it came to me before I thought about it.
Can you tell I was getting excited at all the connections happening in the universe?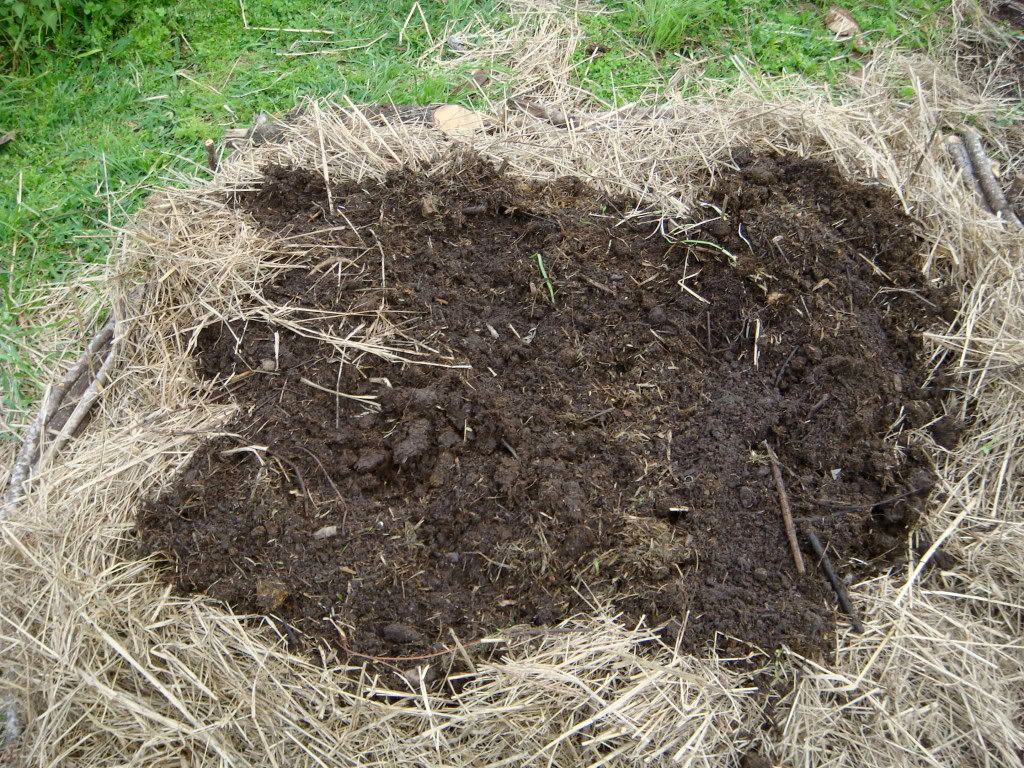 So, to make a straw bale garden, here's what you do. You take your bale of straw and sit it so that the stalks run parallel to the ground. Don't take the twine off, you want it to keep its shape. The boys had already pulled ours apart, so that's why it's so spread out and messy. The proper ones are lovely and neat, all trussed up with twine.
Now you need to keep it wet for a few weeks, just wet it thoroughly often enough so it doesn't dry out. Mine was just outside during all that rain we had, so that took care of that pretty easily (see how it all just happened for me?).
Then the methods diverge. The simplest, and therefore the winner for me, I found on
Quiet Desperation
, where you are advised to just pop some soil on top of the straw and that's it, your garden bed is complete. Others go in for adding all sorts of things to the straw, so it's up to you how much work you want to put in. I used horse manure on mine.
And then I put in some pumpkin seeds.
And that's it, you have a straw bale garden.
I'm now going to concentrate very hard on treasure-chest-filled-with-gold gardening.