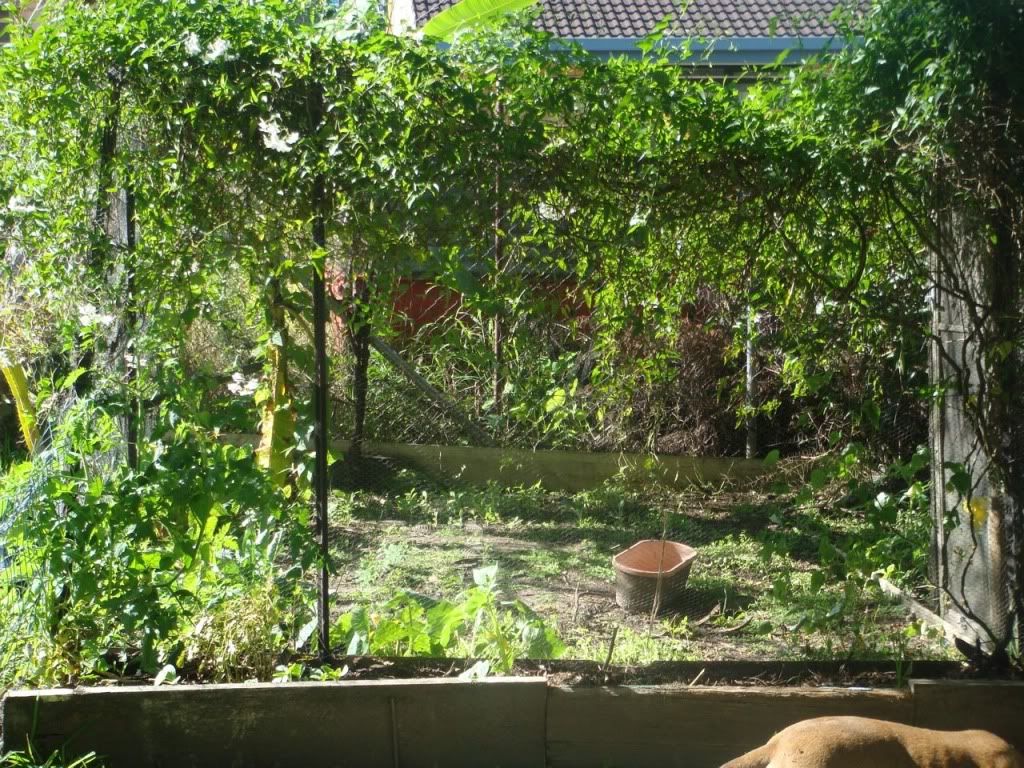 A few months ago, it struck me that after three years of kitchen scraps and chicken manure, the best soil to be found on our house block was to be found in the chicken coop.
So I kicked the chickens out, and proceeded to cage the veggies instead.
And I planted...
And planted...
And planted!
After 8 weeks of growing, things are really starting to come on. It was definitely a good decision -these vegetables are by far the healthiest in my garden, and I've really been able to plant a lot of winter (for us) vegetables. Most of the things in here are not permanent, because when we get our heavy summer rain the coop will flood and be more suitable for ducks than anything else.
Apart from the existing lime tree, and the lovely ornamental potato vine (pictured above), here's what is new and growing in the coop now:
curly kale
cos lettuce
radishes
cabbage
broccoli
cauliflower
green zucchini
black zucchini
parsley
celery
bok choy
pak choy
carrots
eggplants
banana plant
mustard
beans
peas
silverbeet
beetroot
spinach
potatoes
tomatoes that popped up
and of course, several as yet unidentified subjects.
The chicken coop garden is in the back right corner of our yard, and in winter gets full sun in the mornings, then dappled sun until the afternoon when it gets full sun again. In summer it doesn't get too much sun at all, with the poinciana tree providing dappled shade.
And that's it - the chicken coop garden.
Oh and the chickens! Don't worry, they got themselves a brand new shed to sleep in and are now allowed to free range in the rest of the backyard.