I don't know if any of you have ever noticed this, but I am a bit of a starter of projects.
But not so much a finisher.
I am like this with everything. After four years, for example, my bedroom walls are still only painted 3/4 of the way up (that's as high as I could reach without a ladder). It doesn't, of course, bother me at all, but I realise that it may drive others nutso.
And I am pretty sure that I do the same sort of thing here on my blog. Talk things up never to mention them again.
Except bananas. No one could fault me on the extent to which I blathered on about those
fat things.
Anyway, in the spirit of letting you know where things are at - let's update.
The cauliflowers right out the back that I complained about taking an age are finally starting to do something. There are ten plants that are all at this stage, but unfortunately, I think it may be too little too late, the heat and cabbage moths have well and truly set in now. I sowed the seeds well before winter, but next year I will sow them even earlier.
And why are they pink?!
Above is my hard tomato plant - remember
Pomodoro Mud Pie: Brick Red
? It was certainly my biggest producer, but has most definitely come to its end now. I had kilos of fruit from it, and thanks to
Mark's
advice to use them in cooking they were all put to good use. Mostly
dehydrated
, but some with bacon and eggs too.
And do you know what this is? Because I almost didn't and was about to pull it out... it's a peanut plant. Do you remember in the 26 days of planting project I did
N is for Nut
? Well I thought my nut plant produced around 10 peanut pods last year, but it must have been more like 11. This is the one that got left behind.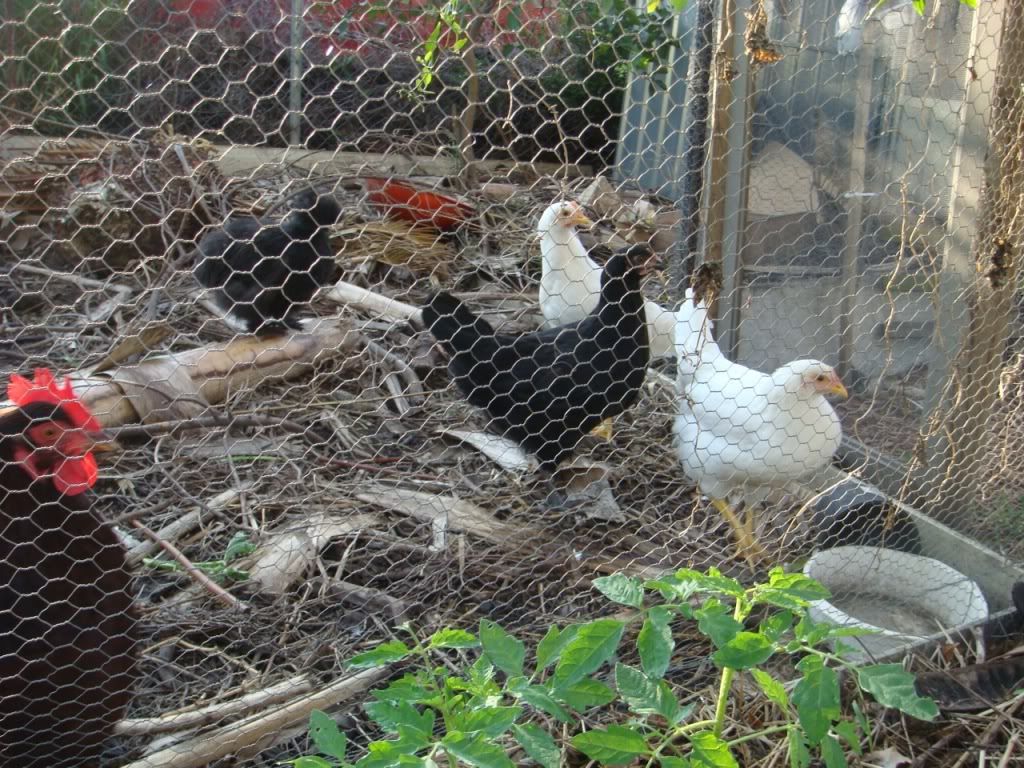 The
new chickens
are growing up. Doesn't it happen amazingly quickly? They aren't even three months old yet.
And one of our
artichoke
plants is proving to everyone who passes my front yard that I really had no idea how big they would grow. Lovely looking plant, but way too big for its spot. Hopefully I'll remember that for next year.
And there you have it.
Stay tuned for more nail biting garden excitement to come.