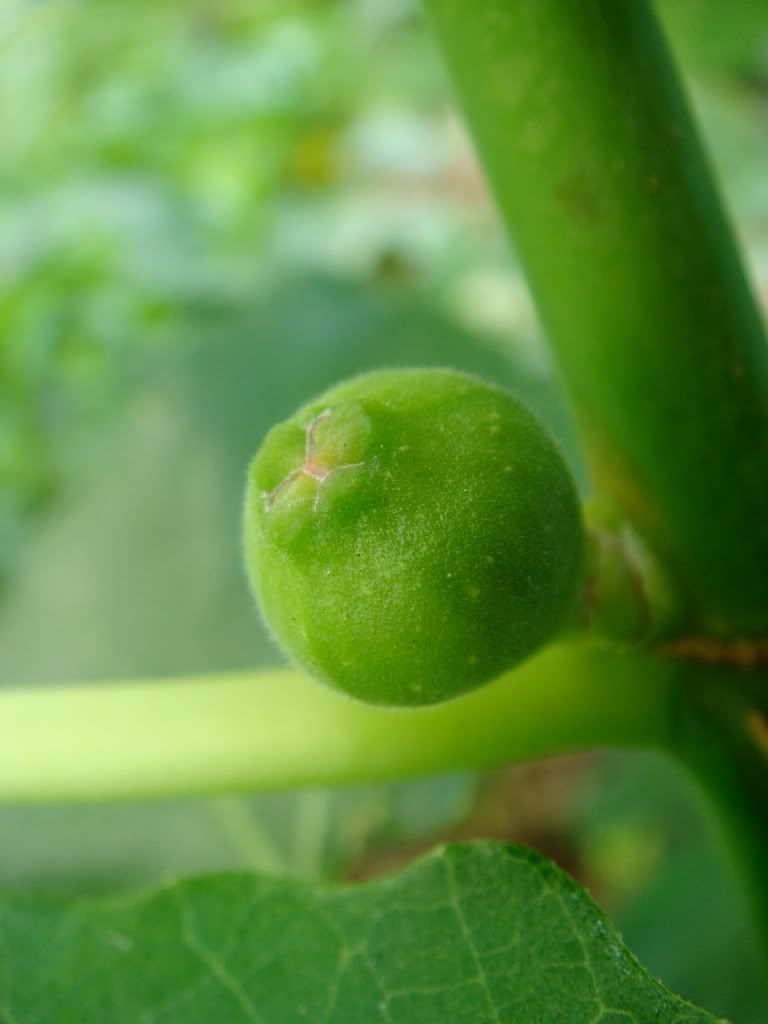 Spring has sprung in our lovely garden, with lots of marvelous rain, and promises (warnings) of litres more bucketing down from the heavens. The very back of our backyard has been fortified (I hope) against the expected flow of summer water as it travels down the incline from front to back, with lots of raised beds and banana plant plantings. I have also been trying to raise the level of the ground in the chicken coop, which generally floods every rainy season. Countless bags of manure, tree branches, lawn clippings and anything else that comes to mind are being laid on the ground with the hope of keeping the ladies dry.
The garden is just loving the warmer and wetter weather.
Pictured above is one of the first figs to appear on our lovely little Black Genoa fig. There are about 10 fruit on it so far, and I am hoping for even more this year. You can see in the photo below how healthy the tree is looking - and how small. Thanks to Elaine and her passed on information on how to keep them little, I am dwarfing my own full sized tree. As the fruit only forms on new growth anyway, there's a lot to be said for keeping it little.
And I'm pretty sure our over the fence neighbours would agree.
This next photo below is my lovely pomegranate. I had a little freak out in winter when after I moved him he lost every single leaf he had, and I thought he was dead. I really need to check before freaking to see which plants are deciduous. I have no idea if/when/why/or how this one fruits, so I am out there every morning looking for some kind of sign.
Please send me a sign pomegranate.
I haven't spoken about our avocado tree for a while, so the last you heard of it was that it was flowering. Which indeed it was. Flourishing there below, isn't it? You really couldn't tell at all that some rodent life form has eaten off every single flower.
Every one.
And the last of the updates for today are the strawberries. I have been scattering coffee on them every fortnight, and while the fresh stuff seems to keep the slugs off, they do come back after a few days. When they stop fruiting I am going to dig them all up and transplant the keepers to higher ground.