Today, Felix and I went to our friend Tess's house to raid her mulberry tree.
She had been telling us for ages how chockers it was. "I've picked five buckets and they just keep on coming! The branches are groaning under the weight of the sheer volume of mulberries on this tree! You have to come and eat some!"
Yeah, yeah, I thought to myself... so you've got a few mulberries...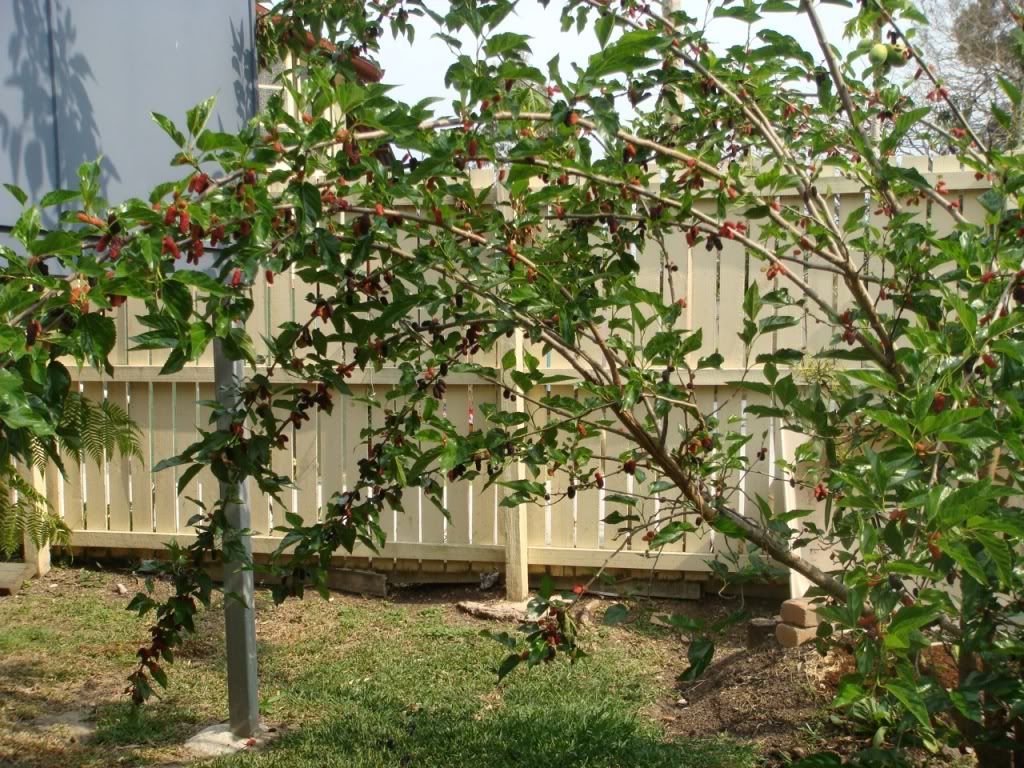 And then I saw the tree for myself. It's kind of hard to tell from the photo above, but the last time I saw those branches they were reaching towards the sky. And this is only a few of the branches...
Felix and Tess and I ate and ate and ate. And then we ate some more. We'd be on one branch stuffing our little faces and then we'd spot another branch that looked better and move on. It really was a most fabulous afternoon of abundance. Faces and hands were pink. Tummies full. Those mulberries... my goodness they were good. Fat, juicy and sweet... we were in mulberry heaven.
And when we arrived back home... I couldn't help but notice that the
one half mulberry
that was left on my poor sorry stripped tree had ripened. I didn't take a photo, the one above is old, but to me it looked kind of small and proud, sitting all alone there on the tree.
Stuffed as I was, I picked it and slowly savoured my lovely little lone mulberry.
Perhaps I am biased, but it seemed to me the sweetest one of all.