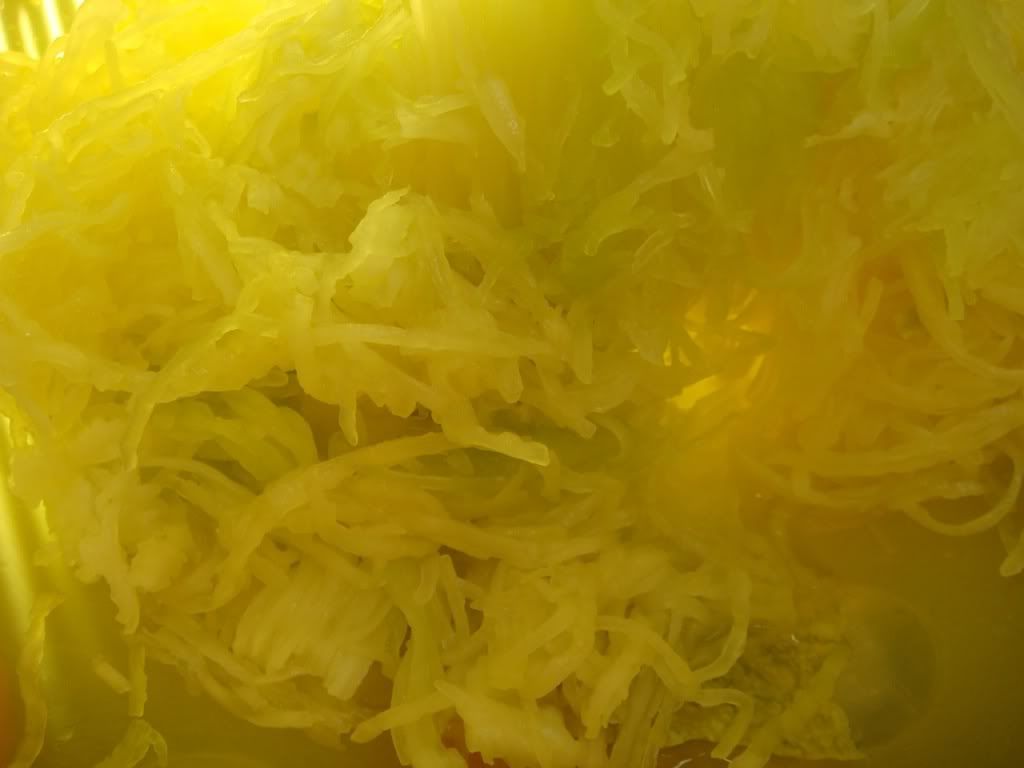 After my
spaghetti squash
post last week, I knew I was going to crack and pick it fairly soon. Exactly when I wasn't sure, but the squash took the decision out of my hands by turning yellow overnight.
Like a small oval beacon in the garden, signalling its readiness. I like that attribute in a vegetable.
I really like when bloggers show their produce next to a ruler or a pair of scissors for scale, and thought I might try to do similar.
Looking around for an appropriate oval object, I soon found Felix's head.
I was quite uncertain how on earth spaghetti-like strands come out of a squash, but after boiling it for thirty minutes before cracking it open, it soon became apparent. I don't know how clear it is for you in the photo below, but the inside is like a tightly packed pack of spaghetti, just waiting to be teased out.
And so tease them out I did.
And found a whole new favourite for the garden.
The spaghetti squash had a lovely, subtle flavour, much like a zucchini. As I was not convinced that the family would like it, I served it with a heavy bolognaise sauce, which was completely the wrong thing to do. The squash, which to me resembled the texture of glass noodles rather than pasta, deserved a far more delicate topping.
I have two more squash ready for the picking, and I am dreaming of a prawn and Thai basil accompaniment...
Spaghetti squash, you earned your right to the
teepees
you grew over.