Wednesday, 20th April
Down it comes, its life cycle ended.
Each banana plant only produces one
bunch of fruit and is replaced by a
new sucker.
What an adventure!
Wednesday, April 20th
This is the last of them...
Tuesday April 12th
Now they're ripening!
Tuesday 29th March
Yum - well worth the wait.
The others on the tree still aren't
ripening though.
Tuesday 29th March
And we have ripening! A little
over a week and this baby
is ripe and ready to go. A little
blackish though - too early
to have picked?
Sunday 20th March
I thought I might try a new method
and cut them down
one at a time and see if they ripen.
Friday 18th of March 2011
Well the hand I cut down didn't
make it, the bananas went from green to
slightly yellowing to black pretty
quickly. So here we are, still waiting
for something to turn yellow.
The same cut down bunch that are starting
to yellow are also
starting to wither
:(
Thursday 17 February 2011
This is the bunch I cut down, starting to
yellow.
Thursday 17th February 2011
Bananas still looking good on the
tree, not really yellowing yet though.
Sunday 6th February 2011
Got impatient and cut down
the bottom hand of the bunch.
Will see how they ripen!
Thursday 3rd February 2011
Waiting for just one to start yellowing.
Saturday 8th January 2011
Almost there?
Wednesday 17th November 2010
Picture of the flower for Donna!
Sunday 14th November 2010
They are trying to go next door.
My neighbour is telling me if they
fall on his side, they're his. Cheeky man.
I could so take him.
Thursday 11th November 2010
Cheeky little bananas, they come out from
above the pod...
I thought it was going to split open. D'oh!
Sunday 7th November 2010
Much darker in colour, I
think it's almost ready to pop!
Thursday 4th November 2010
Seems to have grown a
lot overnight.
It's plump!
Tuesday 2nd November 2010
Okay, now it's a bit like pass the
parcel, when is a lolly going to
get unwrapped?
Saturday 30th October 2010
Okay, still less unfurled
(how is that even possible?),
but straighter!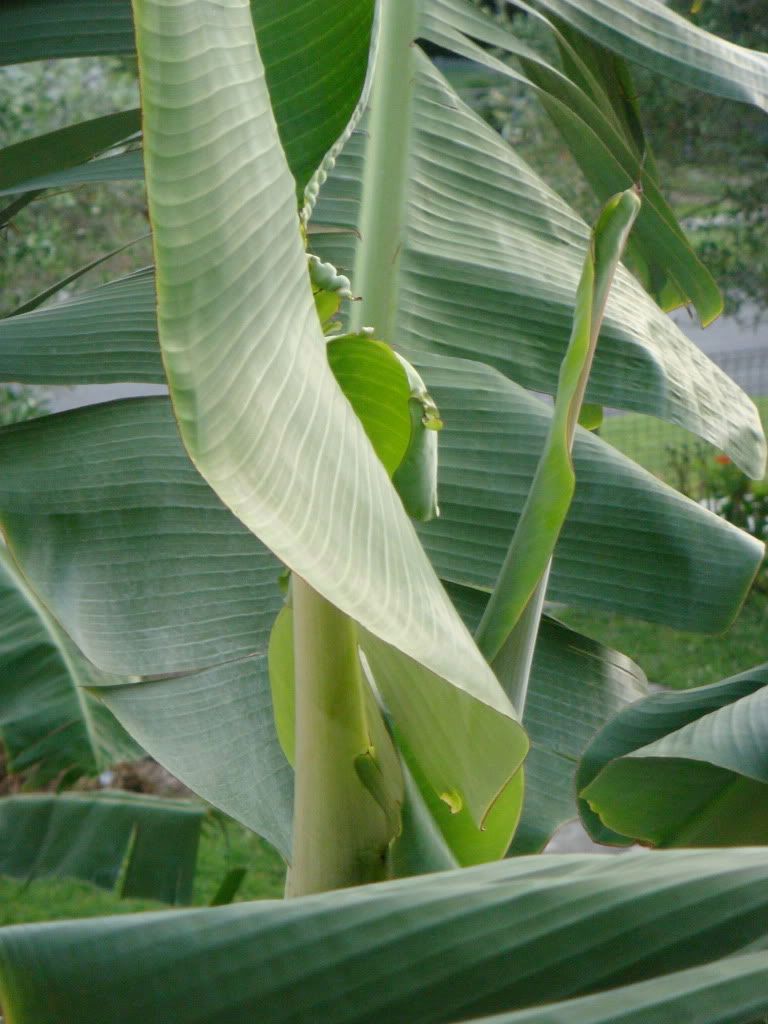 Friday, 29th October 2010
Hmm... why is it less unfurled
than yesterday?